Fly Fishing Tour from Santiago
Go off the beaten track on a fly fishing trip close to Santiago! At only a 2 hours drive from Santiago (168 km) towards the Colchagua Wine region, we find a beautiful mountain lodge located in a tranquil nature retreat. From this private lodge we start our fly fishing adventure. Surrounded by the Andes Mountains we find ourselves a pristine river with brown and rainbow trouts….
Whether you are an experienced fly flisher or a first time novice, you will find this a unique adventure! The central valley of Chile has an abundant flora and fauna which you can enjoy on this trip. Foxes, condors, wild streaming rivers, hot springs volcanoes, hummingbirds…if you are lucky you can see them all! You can go for the day, or make it a 2 day or 3 day trip by staying in our lodge.
Day 1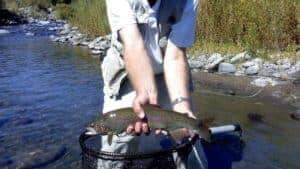 You will be picked up from your hotel in Santiago. Once arrived at our lodge you will be shown around by the owner and enjoy a tasty lunch followed by a Wine Tour & Tasting of our private vineyard!
In the evening soak in the hot tub and watch the many stars in Chile's amazing clear skies, spoil yourself with a 3 course homemade dinner and sip some more wine from the abundant wine collection!
Day 2
After a plentiful breakfast we pack up for a full day of fly fishing with an expert fly fisherman! Learn the best techniques from your guide and enjoy a tasty homemade picnic at the border of the river for lunch! In the evening you will be dropped off in Santiago again or you add an extra day.
Extra option: Day 3
On this day you can either sign up for another full day of fly fishing, or choose from the following 2 combinations:
Half day fly fishing + Visit of a Winery in the Colchagua Valley
Half day Horseback ride + Visit of a Winery in the Colchagua Valley
You will be picked up at 09.00 from your hotel in Santiago. Drive time is about 2 hours.
Also check our 3 Day Wine & Dine Tour or our Horseback Riding Tour.
Group Discount
Special group discounts:
3-4 people: 10% off
5 or more people: 20% off
Cancellation
2 days before it starts for a full refund, with no refunds after that.