Best Tour Company in Chile – The Story behind Chile Off Track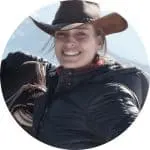 Hi! I am Suzanne, originally from the Netherlands and the proud owner & founder of Chile Off Track – the best Tour Company in Chile since 2008. We are an absolute pioneer in providing personalised and tailored itineraries in Chile, distinguishing us from other companies through our personal touch.
Animals and Nature
I am a huge animal & nature lover, which is the main reason I started Chile Off Track: to share the beauty of Chile's nature. So many beautiful spots are hidden, that you  can only get to know them through a local, or someone like me, who has travelled extensively throughout the country. When booking a trip with Chile Off Track – the best Tour Company in Chile – rest assured for a unique adventure.
Moving to Chile
Leaving the political lobby industry in Brussels, I moved to Chile in 2008. This was before smartphones, whatsapp and google maps. It was the time of finding your way through road maps and illegible mini city street maps. It was one big adventure. Once, while simply driving around Santiago, I was pulled over by the police because I was apparently driving against the traffic. After explaining, I was let off the hook by one policeman, while the other policeman tried to make small talk,. He asked what I thought of the Chilean people and I candidly replied that I thought they were very " caliente" (warm/ hospitable). At once I saw him grimace and I realized I had said something wrong. I realized I had said the Chileans were very "passionate"…
Falling in Love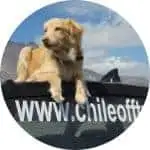 Anyway, my Chilean adventures had just started in my 4×4 with my newfound street dog Spanky. I explored all of Chile's 4000 km long country, making trips left and right into the country. I drove from Santiago to the Atacama Desert, with Spanky in the back. I drove as far as possible to the South and fell in love with the Lake District and the wild scenery.
Chilean Wine – A Passion for Wine
Chile for me is the country where I discovered my passion for wine and learned a lot about it at many of the great wineries. It's also the country where I can saddle a horse and disappear for days, horseback riding either through the rugged Andes Mountains near Santiago or into wild native rainforest for days, crossing fields of dried lava rivers without meeting another soul. This country, where you can meet native Mapuches who live so isolated, it takes them at least 9 hours on horseback to reach the nearest point of civilization. It is the land of volcanoes & natural hot springs. And it is magical.
Our Tailored Tours And Personalised Services
Through our tours we want to share our passion for Chile's breathtaking nature, animals and wine with you! With a background of over a decade of adventure tours we will guarantee you have a unique experience with us at Chile Off Track – The Best Tour Company in Chile!
See you soon!
Suzanne
Our Mission
When Chile Off Track first started, we were exclusively offering tours in nature – think of sunset horseback rides in the Andes and day-treks amidst flora and fauna found only in our beautiful corner of the world. Then our clients started to request city tours, winery tours and excursions to Valparaiso. So, still following our ethos of creating unique, personal adventures, we widened our scope to the array of experiences we offer today!
Our mission, however, is still to take you outside the city to green and happy places, and to share Chile's amazing nature sights, which are sometimes located just out of the city of Santiago! Even when we take you on a city tour, we still take you on the roads less traveled through back streets, full of local life, and share our inside knowledge of this wonderful place. When booking a an experience with us -rest assured all is taken care of since we are the best Tour Company in Chile!
Responsible Travel
We use the leave no trace policy for our tours & clean up after ourselves
We use hiking trails in national parks with which we support for their maintenance, cleanness and preservation
We teach visitors & locals about nature here in Chile and make them aware & care
We teach our visitors about local culture, customs & history
We use local providers for our horse tours and support their families
We take our visitors to small artisan shops & communities to support their initiatives
We use accommodation facilities owned by local families in the South of Chile for our longer tours and help to sustain them
We use the newest vehicles with the least possible emission
We use local drivers to help to support them & their families
We use recycled paper bags for our visitors with healthy snacks & fruit
We purchase local artisan ceramics as a small gift to thank our visitors for traveling with us
We use local people to assist us in our daily activities, such as finance & web maintenance
We run a virtual office and do 99% on the computer = less paper work
We have a virtual office; our people work from home = no commuting
We have a supportive work environment with personalized working arrangements
Meet the Team
Suzanne, owner & founder of Chile Off Track and Italy Off Track, holds the Dutch nationality and has a background in European Law & Policy. She decided to settle down in Chile after she left her political career in Brussels. She loves her 5 dogs & 2 cats and a horse! In summary: she is an animal loving globetrotter!
Suzie was born & raised in New York but lived all over the USA. A veteran of the wine industry, she enjoys all the amazing and beautiful secrets of Chile and this wonderful wine country. You can often find her outside exploring nature, enjoying the art & culture of the city or appreciating a fine glass of Chilean vino.
Lorraine is an avid traveler and foodie, born in Puerto Rico, she relocated to Chile after living in Ecuador and the US. Her background is in marketing and has explored Chile from north to south! She loves to share with others the amazing places and variety of cultures Chile has to offer, along with great conversation & tips on where to find the best local cuisine and wines.
Originally from Santiago, Claudia spent many holidays at the foothills of the Cachapoal valley and her favorite leisure activity is horse riding. Claudia is a self-taught botanist and ornithologist; she is deeply familiar with the local species of the animal & vegetable kingdom. Hiking and bird watching are another of her favorite activities, as well as traveling.
Felipe was born in Brazil and raised in the north of Chile. He studied anthropology and is well versed in market research. Always amazed about how beautiful nature is near Santiago, Felipe loves to take long walks, scenic horseback rides and enjoys a good conversation!
His specialties are the horseback riding tour and the trekking. He protects the group and serves as a compass for the routing of the tours. His skills in rabbit hunting and team building are outstanding.
Mexican who moved to China to learn to eat her veggies, found out she loved teaching and discovered her passion for the outdoors. While in China, she fell for a black Tibetan Mastiff and a talented Italian architect. Long story short… They moved to Chile! Janine adores climbing Saint Cristóbal's, and Manquehue's hills, normally cycle to work and escapes to surf or ski when time allows.
Gaston was born and raised in Edmonton, Canada. He's lived in Chile during different points in his life, totalling over 15 years. His favourite cities in Chile are Valparaiso and Castro. When he's not on a tour, he's probably at home with his kids recycling and creating new things or artwork. He's also very into rap music, graffiti and playing guitar.
Bárbara was born in the south of Chile surrounded by hundreds of horses….As a professional equestrian rider she even won the national Championships for reining. She feels a magical connection with horses. Bárbara is passionate about nature, animals and the Chilean skies. She loves travelling and story writing, has great interest in Art & Music and loves the vibration of city life! Bárbara is an amazing host that will make your feel at home instantly!
Graphic Designer by education, horseback riding instructor by profession, Huaso for hobby and free-lance guide for Chile Off Track.
Walter has returned to Chile after living in 4 countries and 8 cities while working for a multinational. In his native Valparaiso, he loves to connect with international people and showing the finest places. Walter is also working as a Relocation & Property Investment agent, so don't hesitate to reach out if you happen to want to buy a vineyard!
Practicing artist and freelance guide, Fran grew up in Santiago surrounded by Chile's wonderful landscape. Motivated by showing off the local culture as well as the amazing landscape, she takes great pride in introducing people to her home.