Here's our top pick for the 5 Best Hiking Tours near Santiago. Whether you are an experienced hiker or an amateur, there are hiking tours for everybody to enjoy.
Hiking Tours near Santiago
When visiting Santiago de Chile, your attention will be most probably drawn by the beautiful mountains surrounding the city. During winter time, the snow-capped mountains provide the city –which hosts Latin America's largest shopping center, Costanera Center- with a unique view. Sky enthusiasts will spend their days at the Ski centers that are located 50 km (31 miles) just an hour and a half from Providencia district. There are not many cities where you can go skiing in the morning and be back for a late lunch at home, right? Having mountains so close also gives you the opportunity to go out and enjoy them –not with a pair of skis, but with a pair of comfortable shoes instead. Discover below 5 of our best hiking tours form Santiago.
Yerba Loca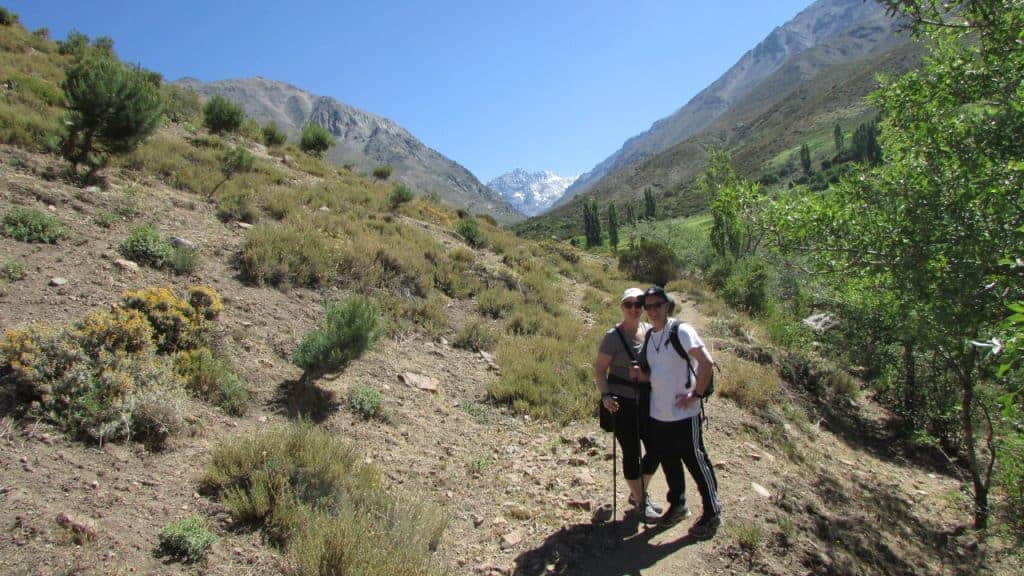 One of our favorite hiking tours! Be sure to take everything as there is no option to buy anything once your up there. If you like adventure, driving there is an adventure itself, due to the narrow curves going up the steep mountains. This road is the same one that leads you to the ski centers, Yerba Loca is located on curve 15 & the ski centers are located around curve 40. Keep in mind you will be in the middle of nowhere, up in the Andes Mountains. Unfortunately it's not possible to get there by public transport, so if you are renting a car we recommend getting a 4×4 SUV vehicle, especially during winter time, however, any type of car can make it. Once you enter the park, the dirt road ahead of you for the next 4 km (2.4 miles) is…well, a dirt road.
The entrance gate to the parks located at 2,000 meters above sea level (1.2 miles) which some people who are sensitive to altitude might feel lightheaded. At the entrance, you will be handed a map showing the most popular trekking routes.
We recommend hiking through the "Mirador del Águila" & "Meseta los Cóndores" routes. After you are done with your hike, you can indulge yourself and relax in the rustic picnic area under the shade of trees while listening to the stream running below (in winter time be sure to pack some nice coffee!). By the way, regarding the trees in the picnic area –you won't find them along with your trekking-. Mountain areas are harsh, windy environment making it difficult for large trees, other than the shrub, to grow. Taking a hat, sunglasses and sunscreen is a must.
You will be able to breath-in the Andes and feel the fresh breeze on your face. Birds of prey such as eagles, hawks and even the Andean condor –world's largest flying bird with its extended wings measuring up to 3 meters- are likely to be spotted up in the sky while you hike.
Opening Hours & Entrance Fees
Yerba Loca opens all year round; however, keep in mind that during school holidays in Chile, this is, December, January & February especially on Saturdays & Sundays, parents will take their families to Yerba Loca so it will be most possibly crowded. We recommend going there during the weekday.
Prices for Yerba Loca:
Adults: CLP 3.000 (USD 4.30) per day
Children under 12 years old: CLP 2.000 per day (USD 2.88)
Senior citizens: CLP 2.000 per day (USD 2.88)
San Cristóbal Hill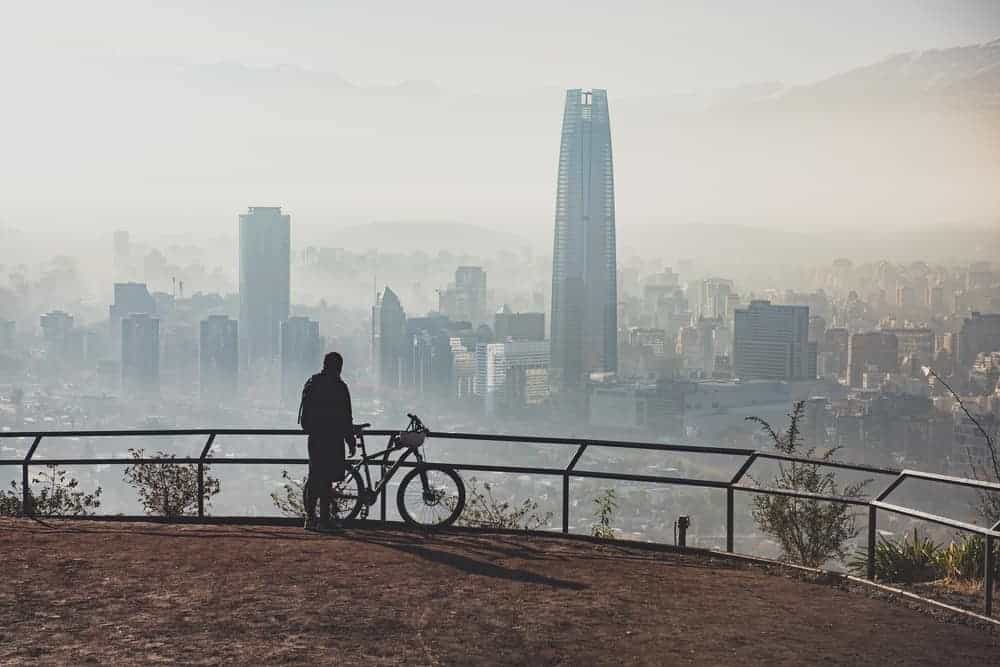 How many cities out there include a hill just a few steps away from its financial district? Located in Providencia district, San Cristobal Hill –which is part of the Metropolitan Park or Parque Metropolitano- is the equivalent of Manhattan's Central Park. It holds the position of the fourth largest urban park in the world with its 1785 hectares (4,410 acres). Among its highlights we can find:
A 40-ton Virgin Mary located within a Sanctuary at 880 meters above sea level
Two public swimming pools
A zoo, a cable-car
A funicular (a type of small elevator used for steep slopes)
An amphitheater with a stunning view of the city & the Andes Mountains (Neruda's amphitheater)
Botanical gardens with medicinal plants used by Aboriginal people (Jardin Mapulemu)
The facilities were Police dogs are trained
The small canine cemetery, where some renowned police dogs rest, is accessible for visitors.
The Park has different entrances, however the most popular is the "Pedro de Valdivia entrance" which is Located at just 1,2 km (0.7 miles) or 15 minutes walk from Costanera Center. You can also get here by public transport (Pedro de Valdivia subway station).
The Park has different entrances, however the most popular is the "Pedro de Valdivia entrance" which is Located at just 1,2 km (0.7 miles) or 15 minutes walk from Costanera Center. You can also get here by public transport (Pedro de Valdivia subway station).
With its various hiking routes, the yellow color marked trails are for pedestrian use only (there are others marked for bicycles only). Best time of the day is early morning. Species living inside the park include owls and birds of prey among others and small mammals such as rabbits.
Climbing up the steps that take you right at the Virgin's feet is a must -if you are in shape- as well as walking along the "Terraza Bellavista" – located below the Virgin's terrace or "mirador"- where you'll get the best views of the city. Best part is that you can enjoy lunch at the trendy Bellavista neighborhood after some nice morning trekking; in that case we recommend taking the funicular to get down to "Pio Nono exit" or if you feel like doing some more walking (around 25 minutes) you can take the "Zorro Vidal" trail from "Plaza México" instead.
Even though there are drinking spots along the way, we recommend carrying a bottle of water with you if you are not used to the high mineral concentration local water has.
Opening Hours & Entrance Fees
Winter time hours (April 2nd to Sept 14th): from 8.30 am to 20.00 pm
Summertime hours (Sept 15th to April 1st ): from 8.30 to 19.00 pm
Entrance to the Parque Metropolitano is free of charge. Funicular, cable car & swimming pools have entry fees & different opening/closing times.
Parque Nacional La Campana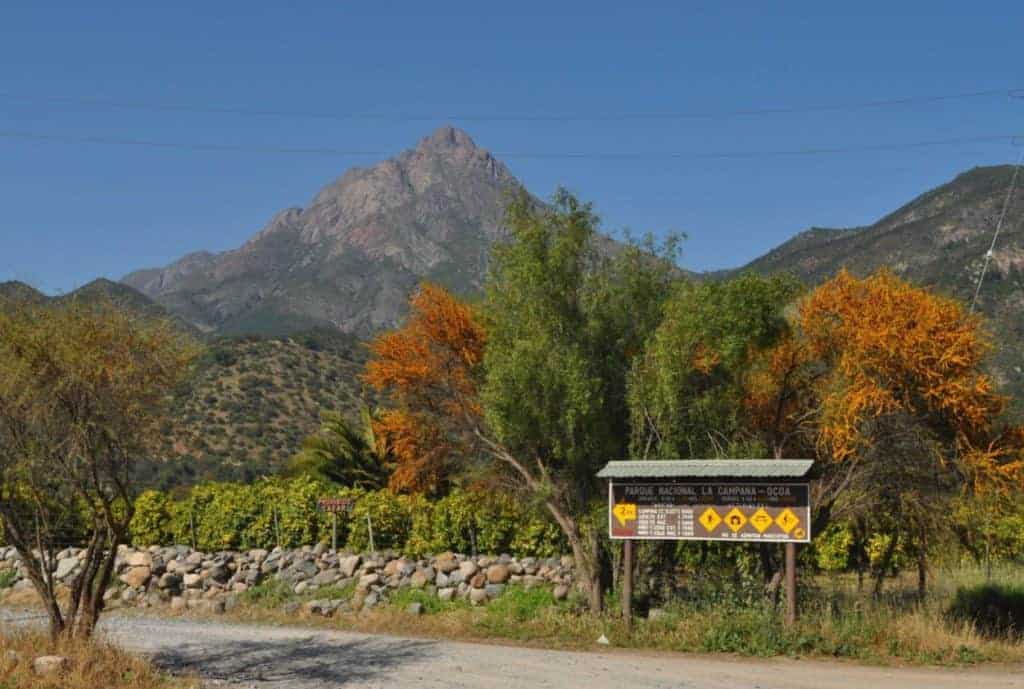 Did you know that Charles Darwin himself climbed up the hill "La Campana" (Spanish for "The Bell" due to the hill's upside down shape) in 1834, during the second voyage of the HMS Beagle? It was through his visits that Darwin came up with the theory of species evolving in order to adapt to their environment. Designated by UNESCO a Biosphere Reserve in 1985, located at just 116 km or 71 miles from Providencia district in Santiago, La Campana National Park features 3 entrances (Granizo, Cajón Grande & Palmas de Ocoa), Granizo the most popular one because this was the entry point for hikers climbing "La Campana Hill" (trekking to the summit was closed as from August 2018 for security reasons). with its 8,000 hectares (19,700 acres)
Infrastructure is rustic with camping spots, toilets & parking. It is advisable to bring along whatever you may need as the last place to find a kiosk is the small town of Olmué. Getting to the park by public transport can be quite of a hassle (if accomplished) so we recommend renting a car and a GPS, as road signs to the park are almost nonexistent.
We recommend an early start with some morning hiking and then stopping for lunch in Olmué or at the start of "Cuesta La Dormida" if you are returning to Santiago, where you will find local meals such as cazuela, Cordero al Horno or empanadas.
Opening Hours & Entrance Fees
Hours:
8.00 to 17.30 (summer time)
8.00 to 16.00 (winter time)
Park entrance:
Adults: CLP 4.000
Kids: CLP 2.000
Aguas de Ramón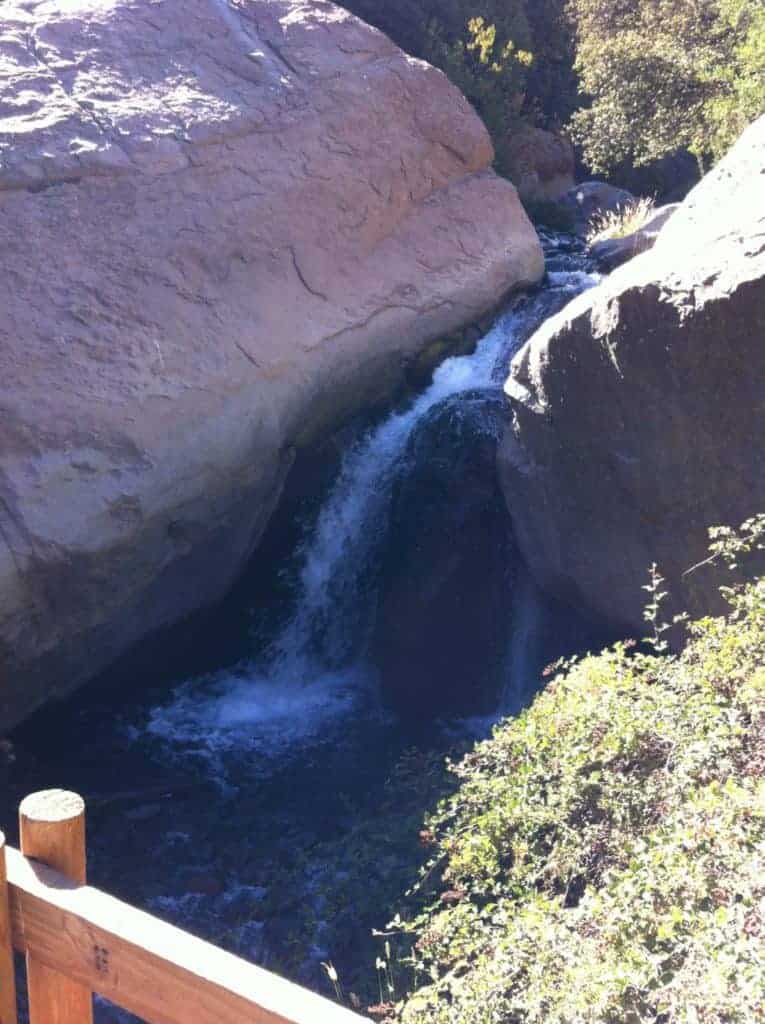 Did you know that one of Santiago's best kept secrets is its waterfalls? A 7-hour hike is needed to arrive at a breathtaking waterfall at 1,646 meters above sea level (Saltos de Apoquindo trekking). However, those who prefer a less challenging route can still enjoy a 4-hour hike (Los Peumos hiking) that will take us to a beautiful stream fall! From large cacti located on the sunny slopes to dense forests of Peumo, Quillay & Litre trees that grow next to the streams, you'll have the opportunity to appreciate the sclerophyllous vegetation that's characteristic of the foothills of the Andes.
At the park entrance you will find restrooms and also throughout the route). Upon entrance you need to register for safety reasons (and let them know when you leave the park); you will receive a map and advice regarding which trekking is suitable for you based on your arrival time to the park. Note that the waterfall park has a time-entrance limit of 9.00 or 10.00 depending if it's winter or summer.
Hiking routes are well indicated with wooden poles marked with different colors that let you know which route you are following. At the main entrance, there's also a small & comfortable cafeteria with sandwiches, salads and other options (can be expensive) Remember to bring enough water supply for your trekking as well as sunscreen, hat, and eyeglasses. While " Los Peumos" can be considered a family hike that pretty much anyone with comfortable shoes can accomplish (even children), to reach the waterfalls, named Saltos de Apoquindo, it's best to use trekking poles and hiking shoes.
This is a popular destination for local families on weekends because it's located just 2,5 km or a 7-minute drive from Shopping Mall Portal La Reina. If you want to use public transportation, your best option is the take a bus to the mall and then ask a taxi to drive you to the park's entrance.
Opening Hours & Entrance Fees
Enabled days: Monday to Sunday.
Opening/closing times: 8:00-18:00
Ticket Value:
CLP 3.000 general public
CLP 2.000 children under 12 and seniors
Reserva Nacional "Rio Clarillo"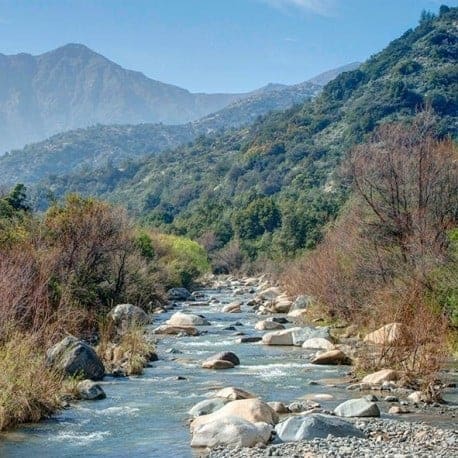 This reserve is located inside the Metropolitan region and 40% of its plants are endemic to this area. The Sclerophyllous forest such as Litre, Peumo & Quillay tree is what we mostly see during our trekking trails. This park is reminiscent of how Santiago and the valleys around used to look like, before the arrival of Spanish conquerors and the introduction of cattle and agriculture.
A full day out of the city is our choice to visit this park; Pirque, a small village, is located right outside of Santiago. Here you can escape the city rush and connect with its rich agricultural history. Once in Pirque, we recommend visiting the newly created Farmer's market, Mercado Origen. This is a small yet interesting place, where you will find artisan cheese, fruits preserves, local spices, and other gourmet delicacies. Driving around Pirque you can also find some tasty traditional food, including BBQ and empanadas. You can even join a wine tasting tour in Santa Rita vineyards, that has some afternoon options available in English.
It is recommended to visit the park in winter, autumn & early spring. During summertime temperatures are around 30 C-35 (86F-95F) and there's little shade due to the type of vegetation found in the mountains. You will find some rustic restrooms and rustic picnic areas suitable for a cold meal. You are not allowed to make a fire or to bring heating devices inside the park. Smoking is not permitted either. This is a popular place for families during spring and summer weekends. Shaded areas are scarce so a hat, plenty of water, sunscreen and eyeglasses are a must. Also, keep in mind that you will be in a remote area. So bring along whatever you think you might be using as there's nowhere to buy anything nearby.
Even though it is possible to get somewhere near the park entrance by public transport, we don't recommend this option as it can be quite complicated getting around in rural buses (unless you speak fluent Spanish).
Opening Hours & Entrance Fees
Park ticket:
Adults: CLP 6.000
Children: CLP 3.000
Park entrance (April to November): 8:00 to 17:00 and the park closes at 18.00 hrs
High season (December to March): 8:00 to 17:00 and the park closes at 19.00.
*From May 1 to August 31, park closes on Mondays
Chile Off Track offers a day trip to Yerba Loca as part of our Andes Day Hike tour.