Self Drive Tour South of Chile
We have set out the most amazing self drive tour in the South of Chile for you! We start at the Puerto Montt Airport and we finish our trip at the Temuco Airport. And what happens in between is pure magic! We spend a few days around 3 must-see lakes in the beautiful lush area of the South of Chile. Did you know that this is already North Patagonia?!
Day 1, 2, 3 (2 nights)
We start at Lake Rupanco, where we spend 2 nights with a Chilean local family in a private wooden cabin for a unique and authentic experience. Here you can visit some unspoilt natural volcanic hot springs (dig the hole yourself!). Fish your own salmon, kayak the lake or horseback ride. Ous hostess will prepare the most amazing traditional home-made food for you… from sopaipillas to cordero al palo.
Day 3, 4, 5 (2 nights)
From Lago Rupanco we resume our road trip and we drive towards the north, till we arrive at Lake Ranco. Here we have selected a beautiful and quite upscale Lodge with views on the Lake. here you will equally spend 2 nights. During the day wander through the national park and explore the many routes, and in the evening soak in the indoor pool or hot tub. And finish your perfect evening with a dinner at their own restaurant.
Day 5,6,7 (2 nights)
After a hearty breakfast you resume the road and put your coordinates for your last destination…Lake Villarica. Now this Lodge is something special. The hosts are simply amazing, the food is outstanding (again!) and the location is just superb. Nestled amongst the trees it's a perfect romantic hideaway. Also here you can chose for many activities and use the lodge as a base camp. We will list a few tours below, just let us know what you'd prefer and we will tailor your stay.
Horseback riding (all year around)
Fly Fishing (all year around)
Trekking – Andean Lagoons, waterfalls, craters, national parks, volcano – (all year around)
Natural Hot Springs (all year around)
Kayak (all year around)
Helicopter Volcano Tour (Dec-March)
Glacier Trekking (Dec-March)
Snowshoe Trekking (May-October)
Skiing (May-October)
Itinerary
You can book this as a 6 night/7 Day self drive tour in the South of Chile. Another option is to add this after your Exploring Patagonia Trip as a last leg of your Chile Adventure.
Price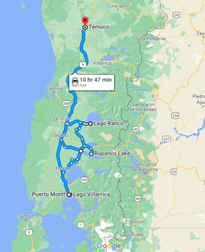 The price is indicative. Please contact us for a tailored itinerary!
(Car rental is NOT included in the price).
Cancellation
7 days before it starts for a full refund, with no refunds after that.